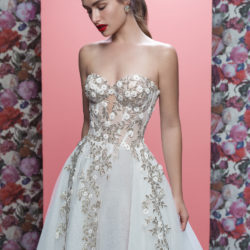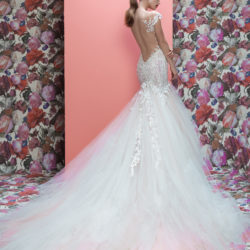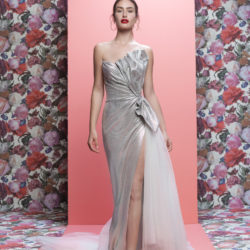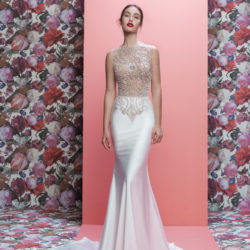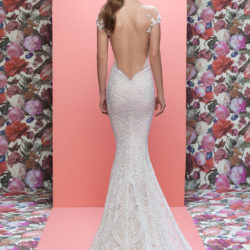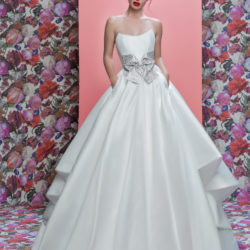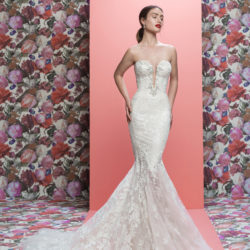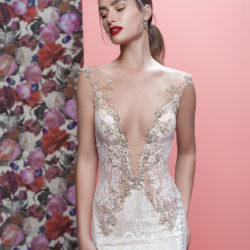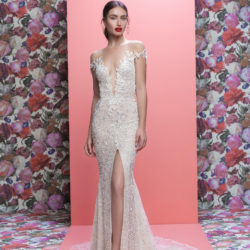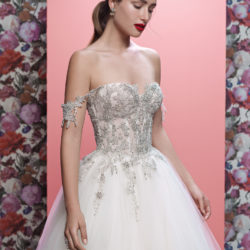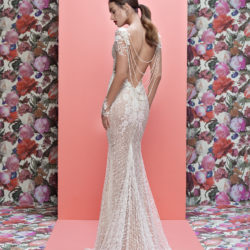 "We like the v-backs, the v-necks, and designing dresses for girls who are confident of their bodies," Galia Lahav told us at Stanley Korshak Bridal during the label's Spring 2019 trunk show and cocktail reception (planned by the lovely Jordan Payne Events). Stanley Korshak Bridal just added Galia Lahav to their bridal designer roster, so this is the first time we've had the opportunity to spend time one-on-one with the designer herself.
Born into a Russian seamstress family, Galia Lahav taught art classes at a young age. She was eventually inspired to turn her art into fashion. Her eponymous bridal line began modestly with custom lace applique but quickly evolved into a haute couture fashion house based in Tel Aviv, Israel. "I noticed there was not enough bridal brands in Israel. I started my first bridal collection 30 years ago and now, we are in 90 stores worldwide," says the designer. To say the brand is "sexy" would be an understatement. Lahav made a name for herself designing seductive silhouettes incorporating plunging necklines, sheer fabrics, and customized couture detailing. Not one to be restricted by the status quo, the "Galia" bride is a modern and confident woman.
For her latest collection, called "The Queen of Hearts," Lahav drew inspiration from the fantasy world. She suggests this collection is for the bride who is a true "heartbreaker." The collection introduces fuller ballgowns into Lahav's oeuvre, yet abounds with intricate beading, floral applique, and even detachable elements so the bride can adjust her look throughout wedding day. With every dress modeled at Stanley Korshak, I caught myself saying, "Wow, that one is my favorite." The hand-made intricacy of each gown demands attention while exuding chic sophistication. "We are willing to create a dress for every type of woman and body type; not just models or skinny girls. Our job is to make every woman feel beautiful," says Lahav. This mantra transcends bridal trends and speaks to the core of the Galia Lahav label. There is something magical about a designer unwavering in her creative vision—a confidence we wish every bride could carry throughout their bridal process.
To be a Galia Lahav bride, book your appointment here! Check back on DWeddings.com or follow us on Instagram for the next Galia Lahav trunk show.