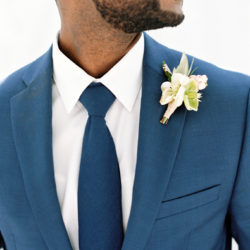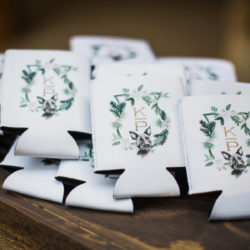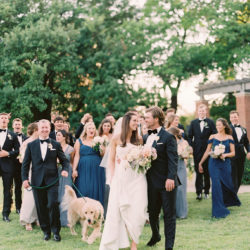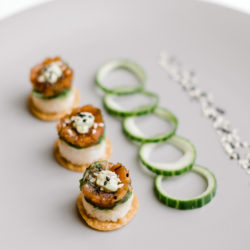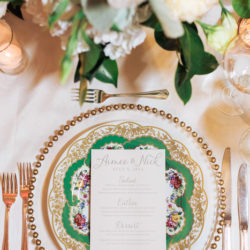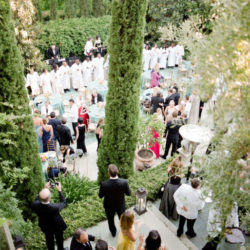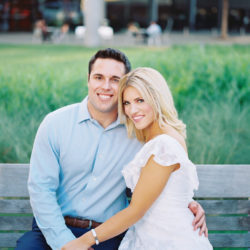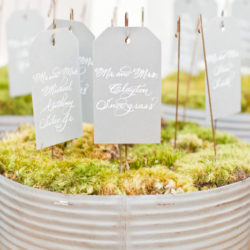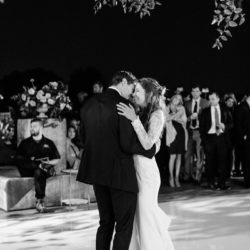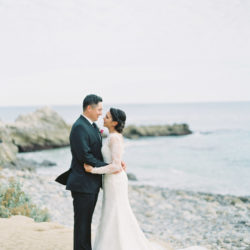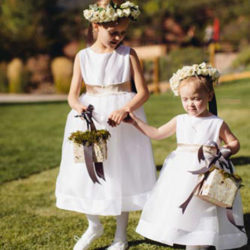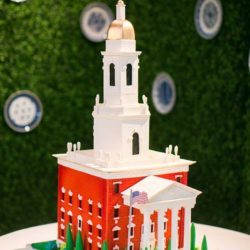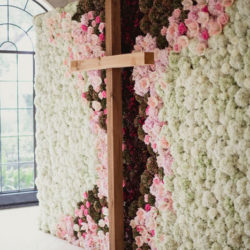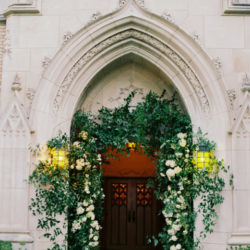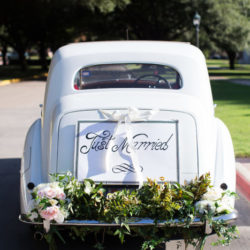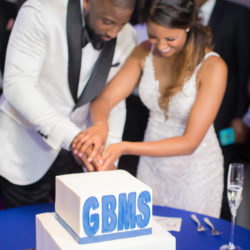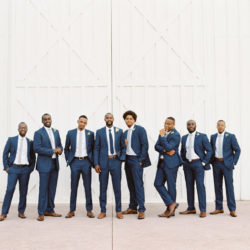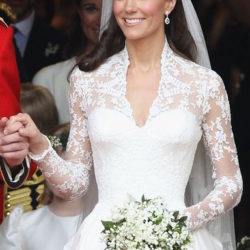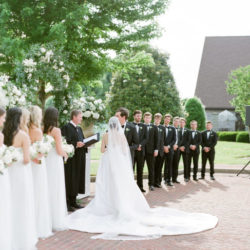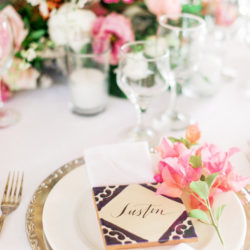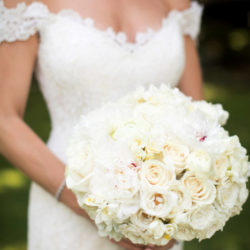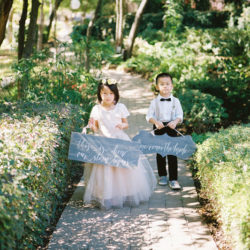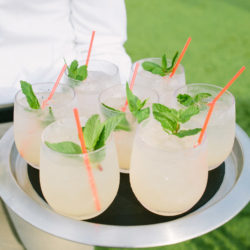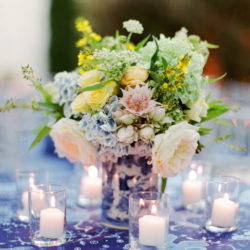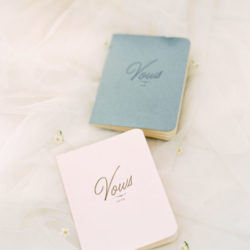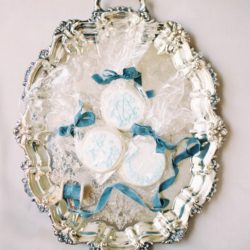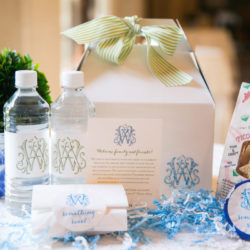 Boutonierre? Canape? Nosegay? You shouldn't need to know these wedding terms, until you do. We decided to cover all the bases and put together the ultimate wedding glossary in layman's terms, so you don't have to feel lost or confused during your next planning conversation.
Best Man 
"I love you, man." This title often goes to a brother, life-long bestie, or dear-old dad and they stand directly next to the groom as they say, "I do." Duties typically include, but not limited to: keeping the ring safe until the ceremony, giving a speech at the reception, planning the bachelor party, and making sure the groom shows up to the right places at the right times.
Black Tie 
Don a floor length evening gown or tuxedo when the attire is black tie. This is the dress code chosen for evening weddings, specifically after 6 o'clock in the evening. Men's attire includes a tuxedo, waistcoat, white dress shirt, a black bow tie, and black dress shoes. Ladies should expect to wear a long evening gown or formal cocktail dress and dress shoes.
Black Tie Optional
Tuxedos encouraged, but not mandatory. Women may wear short dresses but ensure it's a formal cocktail dress, and not a sundress. Also, no wedges.
Boutonnière 
Wondering if the groom has a cute younger brother? Look for this. It's a single flower, or small grouping of flowers, pinned onto the jacket lapel of the groom, groomsmen, ushers, and male relatives of the groom. 
Branding
An excuse to place your new monogram on…everything. A stationer can create a wedding logo that embodies your wedding aesthetic and it can be placed on invitations, cocktail napkins, koozies, the dance floor, you name it.
This is the full entourage, motley crew, or #squad. Traditionally, the betrothed man carried the title "bridegroom" so the bridal party is not limited to the bride and her bridesmaids. It also encompasses the groom, groomsmen, flower girls, ring bearers, ushers, house party, wedding officiant, and the mother and father of the bride and groom.
Bustle 
First comes bustle, then comes the dancing. The bustle gathers up the wedding dress train with buttons or ribbons to prevent the train from dragging and helps the bride move around. Short for "bust a move."
Buttercream
Created by creaming butter with sugar,  buttercream fills and dresses a traditional wedding cake beautifully and tastefully. But don't expect it to hold it's shape for complex designs or watercolor details—leave that for fondant.
Canape
That small bite, typically served during cocktail hour, that leaves you wanting more. It's a small bread or pastry with a savory topping passed as an hors d'oeuvres.
Cathedral Veil
Think Lady Di processing Westminister Abbey. It's a formal veil that extends past the wedding dress train measuring around 120 inches. The name originates from dramatic veils processing long, Cathedral chapel aisles.
Charger
A decorative base plate for all the other plates to stack on top of used to anchor the tablescape. Essentially, what the perfect handbag is to an outfit.
Cocktail Attire
Men wear a dark suit and women wear a short dress that is ready to party. Your LBD never fails.
Cocktail Hour 
An hour to two hour event directly after the ceremony that gives the wedding's guests time to mingle over cocktails and hors d'oeuvres while the bridal party and family pose for portraits. 
Day of Planner 
They keep the show going. Whether you hire your own or utilize your venues coordinator, a day-of planner is mandatory to ensure wedding day runs smoothly. If a guest or bridal party member has a question, they go to the day of planner. Drunk Uncle tries to make a toast? Day of planner will, courteously, takes the mic.
Embossing
Essentially, ink-less engraving. This technique creates a raised-relief surface and often used for border motifs, monograms, or subtle details on invitation suites and paper goods.
A party celebrating the engaged couple hosted typically within the first two months after the proposal, but often even hosted on the night of the engagement. 
Engagement Photos 
First chance to show off that bling. Shortly after a proposal, couples schedule a photoshoot to have professional photography to be used for a save the date, wedding website, and local engagement announcement (submit yours, if you haven't already, here). 
Engraving
The most formal and swankiest of stationery methods. Engraving creates a raised surface on the front of an invitation and a subtle indention on the back of the invitation.
Escort Card
Each escort card will have a guest's name or couple's name with their table assignment.
Fascinator
To Americans, these gravity-defying headdresses are fascinating but in England, they are wedding required.
Filler
Lighter floral and foliage that fills gaps between your larger blooms. Cost-effective and efficient.
First Dance
The first time you and your spouse take the dance floor as a married couple. Couples usually waltz, two-step, or swing to a tune significant to their love story. Check out our playlist for first dance song inspiration.
First Look
A private moment between the bride and groom before the ceremony that helps break up (and slow down) the day. It also makes for a great photo-op opportunity. This is in-place of the groom seeing his bride for the first time at the opening of the chapel doors.
Flower Girl 
The last, and often cutest, bridal party attendants that walk the ceremony aisle before the bride, often scattering floral petals or holding a sign to prepare guests for the special moment. The flower girls are also typically the youngest family members, alongside the ring bearers.
Flower Wall
Kim and Kanye said 'I do' in front of a flower wall of epic proportions. Often times, this decorative element is used for a ceremony backdrop or to frame your wedding cake.
Fondant
If you've seen a groom's cake in the shape of a football stadium or Yeti cooler, it's most likely covered in fondant. A thick paste of sugar and water that can be molded and folded into elaborate cake designs and is an ideal canvas for painting on details. Downside, often not as delicious as buttercream or cream cheese frosting.
Full Bar
Let the champagne flow! Full bar means full beverage service open to all—supply of liquor, beer, wine, and beverage selection.
Garlands 
Greenery, with or without flowers, twirled together to make long strands. Can be hung in the reception area, in doorways, and around railing and columns.
Groom's Cake 
Ladies, give the man what he wants. The groom may not get a Dallas Cowboys-themed reception, but at least he can get a cake that represents his team spirit. The groom's cake is the second cake served at the reception that is typically more "playful" or themed.
Head Table
This is where the bride, groom, bridesmaids, and groomsmen dine together during the reception. The "altar" of the reception, if you will.
In-house Catering
In-house catering means look no further for service because your venue exclusively works with one caterer.
Letterpress
Letter indented on the front, slightly raised on the back.
The gal you call your BFF. This appointed head bridesmaid typically plans the bachelorette or pre-wedding parties, manages the bridesmaids, attends dress appointments and fittings, and makes a speech at the wedding.
A maid of honor, but already married. 
Nosegay
A wedding bouquet of nice and tight blooms bunched together in an arrangement. Historically, this style dates back to the 14th century when it was used to mask unpleasant odors—hence the name.
Officiant
"By the power invested in me." The officiant leads the wedding ceremony and must be legally certified by state to perform the marriage. 
Place Cards
Not to be confused with an escort card, the place card sits at each guest's individual table setting to signify the guests specific seat. Only used for seated dinners at formal events.
Place Setting
Made-up of everything set out for each guest at a table from cutlery, plates, napkin, and beverage glasses.
Posy
A bouquet style of tightly-bound blooms that fit in the hands and consist of mostly flowers. Classic brides traditionally favor this round-bouquet style.
Prelude
A sophisticated term for background music. The prelude is the music selection played in the ceremony space softly in the background as guests mingle and find their seats.
Procession
All bridal party members walking down the aisle ending with the bride.
Processional
The music that plays as all bridal party members—and bride—walk the aisle and step into place. This music initiates the ceremony. 
Recessional
The music that plays after the bride and groom share their first kiss as man and wife, ending the ceremony.
A bride and groom "register" for a selection of items at 2-3 stores to receive as wedding gifts. The registry typically includes, but not not limited to: everyday and fine china, linens, kitchen appliances and accessories, and home decor. Family and friends of the couple purchase gifts off the couples registry—in-store or online—and send to their home or bring to pre-wedding showers. 
Response Card
Wedding guests, make sure you remember this one—the reply card comes with the wedding invitation suite and asks each guest to R.S.V.P. if they can or cannot attend. For seated dinners, this card can also ask a guest to select one of two dinner menu options (i.e. chicken or beef).
Ring Bearer
A young boy, who walks down the aisle before the flower girl, carrying a small pillow with the bride and groom's wedding bands tied to it.
A preliminary announcement sent before the official wedding invitation for the purpose to notify all ceremony guests to mark their calendars. Often, the save-the-date is designed with an engagement photo or in a style that teases the entire stationery suite.
Sheet Cake
A cake baked in a large, rectangular sheet tray often one to two layers.
Signature Cocktail
Gives your guests the opportunity to sip your favorite poison. At the recent royal wedding, guests sipped the "When Harry Met Meghan," which featured a hint of ginger—a nod to the Prince's famous red hair.
All of your designed paper goods for wedding day celebrations. Includes your save the date, wedding invitation, outer and inner envelope, response card, accommodations card, wedding program, escort and place card, menu card, and thank you cards.
String Quartet
An ensemble of four musicians (two violinists, a violist, and a cellist) typically hired to play during the ceremony.
Tablescape
Everything found on a set table from the linens to the floral arrangements to the place settings.
Tea Light
Tiny, wide candle placed in a metal cup that can be placed in votives for decoration. Ideal for inexpensive mood lighting.
Topiary
A shrub that is in a specific shape, such as a sphere. 
Tossing Bouquet
A designated bouquet, mimicking the bride's "real" bouquet, that is used when the bride blindly tosses her bouquet to all of the single female guests. The benefit of a designated tossing bouquet is that the bride can preserve her actual bouquet if she so desires. 
When wedding dress designers visit a bridal boutique on a set day with their entire line of new dresses. Brides schedule appointments to try on dresses. See our trunk show calendar here. 
Usher
Friend or family of the groom that assists in escorting guests to their seats.
Uplighting
Small lights placed around the perimeter of a venue to create an ambience, usually lit in a specific color tone.
Vows
The promise couples make to each other in their wedding ceremony. These vows can either be scripted or personally written.
Waiting Period
The time period in which a couple's marriage ceremony should occur. Some states require that couples satisfy a waiting period from the time the marriage license is applied for to the time the license is issued. Sometimes, waiting period can be waived, for good reason, by a judge.
Wedding Favor 
A token of gratitude for coming to the ceremony. The favor can also act as a souvenir of remembrance from the wedding and a fun spot to carry out your wedding "branding."
Websites that engaged couples use to aid in planning and communication for their wedding. You can communicate with your guests and inform them of the date, time, location, and the wedding registry.
If you want to be a little extra fabulous to your wedding guests, design and prep baskets filled with goods and luxury products for out-of-town wedding guests, usually placed in their hotel room or offered at the hotel reception. 
White Tie
The most refined style of dress for an event. Men wear a black tailcoat, a white shirt, a waistcoat, a white bowtie, high waisted pleated black trousers, white gloves, and black shoes. Women wear a long evening gown with dress shoes.