Advice & Planning
A Match Made in Blue-and-White Heaven: Mi Golondrina x M.D.S. Stripes Launches Tomorrow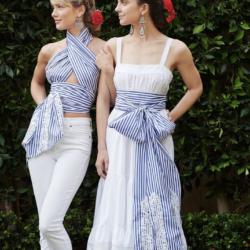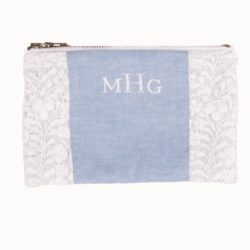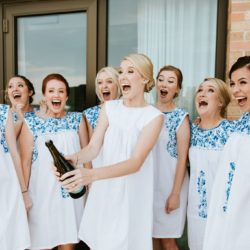 Mi Golondrina and M.D.S. Stripes have joined forces to create an easy, breezy blue-and-white collection of flowing dresses and festive tops that are straight out of a honeymoon dream. The limited run launches tomorrow. We chatted with Cristina Lynch, the Dallas-born and -bred female founder of Mi Golondrina, about her line of artisanal Mexican wear and collaboration with the all-American interior designer Mark D. Sikes (see his popular blog for a sense of his aesthetic turned fashion brand). She said that the idea for the collaboration was hatched over lunch at her mother's home—a chic, Latin-inspired hacienda in Preston Hollow.
"Mark and I started talking about his silhouettes, and my silhouettes, and how we could bring our worlds together," Lynch says. Neither run a "trend" business per se, and if classic feminine silhouettes are trending elsewhere, they have always been a trademark of Dallas women. Both Lynch and Sikes's brands are articulated and intrinsically embodied in the clothes themselves, as well as the lifestyle of the wearer.
The collaboration was a year in the making, but came together effortlessly. The apparel includes the signature Italian cotton of M.D.S. Stripes and handwoven Mexican lace of Mi Golondrina. In terms of the color palette, Lynch admits that Mi Golondrina "has every color under the sun," but that Mark favors blue-and-white. "I love that the blue we chose for the collaboration is crisp and vibrant—it's very Mexican to me," says Lynch. "Working with Mark was a dream. We are very different brands, but there are so many synergies."
It is hard to deny the vacation-ready appeal of both brands. The classic Mi Golondrina "Flores" dress has popped up all over Instagram, whether at bachelorettes or as a bridal getting ready uniform. Mi Golondrina has a dedicated bridal manager on staff, who works with brides on custom orders six months out from the wedding. They also make monogrammable getting ready pouches (one bride recently had her friends' nicknames embroidered instead of traditional initials).
Of course, brides love "something blue"—which makes this collaboration a perfect match for wedding parties. Speaking of parties, the Mi Golondrina x M.D.S. Stripes collaboration is celebrating its launch tomorrow at the Mi Golondrina Showroom from 10am-4pm. Can't make it? The collection will also be available to buy on both of their websites. What better way to start celebrating Cinco de Mayo?