Advice & Planning
Engaged, IRL: Country Singer Chase Bryant & Model Kourtney Kellar's Modern-Day Romance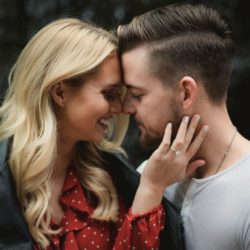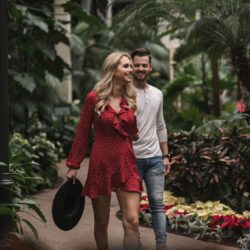 Texas-native country singer Chase Bryant is currently touring with Brad Paisley on his Weekend Warrior World Tour. When they dropped into Dallas last month, I had the chance to witness a mid-song kiss that made the crowd go wild.
Chase is engaged to Kourtney Kellar, who is also known as Miss Texas International 2017. Kourtney was backstage with her future mother-in-law when Chase began singing the chords of "Change Your Name"—a slow song written especially for Kourtney. His mom brought Kourtney out to the front of the stage while he played, and when the song was over, he knelt down and kissed her. "I wasn't expecting him to kiss me like that at all!" says Kourtney.
The couple met on October 9th, 2015, which also happened to be Chase's birthday. He flew into Dallas for a private show he was doing with his band, and Kourtney was working at the venue that night as a promotional model. Chase noticed her from the stage and, a few songs in, turned to his drummer and said, "That girl right there—I'm going to marry her one day."
Fast forward one year, and Chase still had Kourtney on his mind. The couple had been keeping in touch through Instagram, when Chase had an idea. He was shooting a music video for his song "Room to Breathe," and contacted Kourtney about playing a role in it (he would be playing a James Bond character, and she would be his "Bond girl"). He picked her up from the airport on the day of the shoot, and throughout the long day, Kourtney became more and more interested in the outspoken and well-mannered country singer.
Chase had some tricks up his sleeve to win over Kourtney. When the music video was coming to a wrap, they prepped for the last scene where the two would be sharing a steamy kiss outside of a '67 Chevy Chevelle. The couple was nervous but excited as the scene began to roll. They kissed for what seemed like minutes, sparking the beginning of a modern love story.
On the night of September 11th, 2017, the couple went back to the Nashville restaurant where Chase had asked Kourtney to be his girlfriend the year before. On the Uber ride home, Chase had the driver stop and take a photo of them in the middle of the Demonbreun Street Bridge where they had shared their first kiss. When they were about to take the picture, Chase dropped to one knee in the drizzling rain and popped the long-awaited question. She said yes, of course, and the couple will say "I do" this year in October.