Advice & Planning
Interior Designer Michelle Nussbaumer Looks Back On Her Iconic '80s Wedding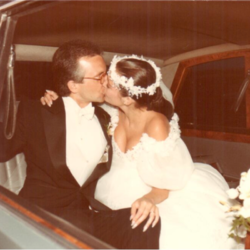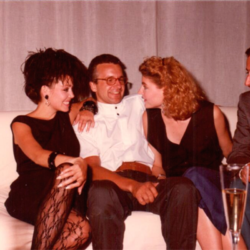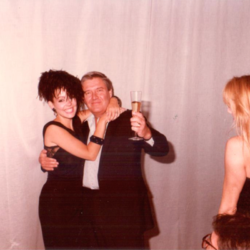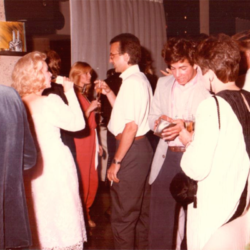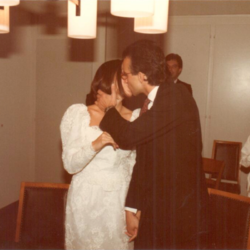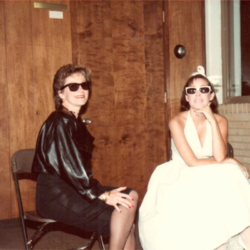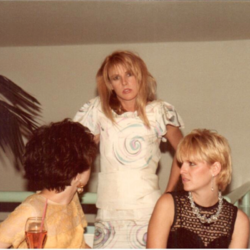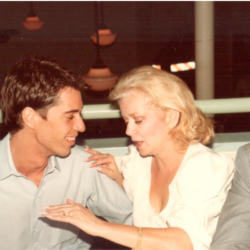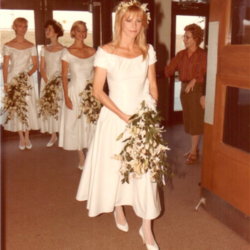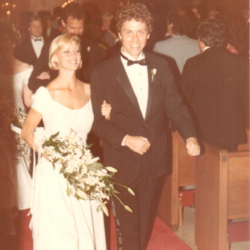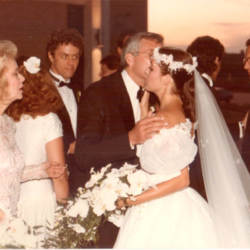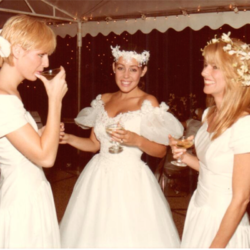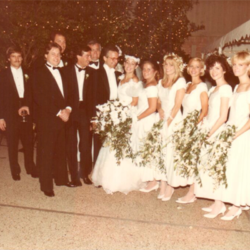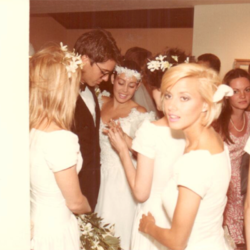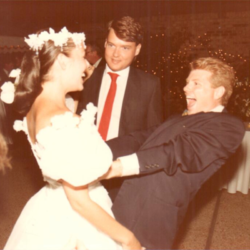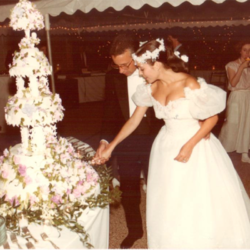 When interior designer Michelle Nussbaumer saw her now-husband dive into a swimming pool at a party in 1983, it was love at first sight. Bernard felt the same. "He basically told me he was going to marry me the day I met him, and within a year that was true," Michelle says. The sixth- generation Texan and Swiss émigré's wedding festivities mostly took place in Dallas, where the couple defined the "in crowd" at a moment when the city—which had been popularized by its iconic television show—was also attracting the international jet set. Case in point: they kicked off their wedding celebrations at the Starck Club.
The club—designed by, yes, Philippe Starck—was only open for a handful of years, but at its peak, it was the epicenter of 1980s counterculture: a place where drag queens, Texas socialites, and French creatives intermingled. "My best friend and bridesmaid Christina de Limur and BFF Arnaud Fioramonti were a part of the gang that started the club," says Michelle. "Being French, they both knew Philippe and were instrumental in getting him to Dallas."
Michelle and Bernard's engagement party took place the night before the club officially opened. Their guest list was a "who's who" roster of Dallas at one of its most interesting moments. "Two of our other dear friends, Valarie Kennedy and Chuck Durrett were a part of the original group that opened the club. They were in our wedding too. Our good friend, the artist Dan Rizzie, did the artwork on the columns inside the club," says Michelle. "So all in all, we had a lot of friends involved in the beginning." The bride wore black: Michelle chose a figure-sculpting Azzadine Alaia dress for the occasion, which she complemented with black accessories, including a vintage feathered 1960s Frank Olive hat. "It was an epic engagement party!" she says.
The couple's two-part wedding included a civil ceremony in Switzerland a few months before the Dallas celebration. "We decided to do a very intimate affair so that friends and family of my husband's who could not make it to America could be a part of the celebrations," says Michelle. They concluded the gathering with a luncheon in the countryside at her father-in-law's house. Michelle wore a ballon-sleeved Oscar de la Renta gown for the occasion.
Back in Dallas, the pair had a stylish rehearsal dinner at a restaurant in town. Not one to disappoint on the fashion front, Michelle donned an all white ensemble, including a halter dress by Lou Lattimore, single bow headband, and pair of sunglasses (which she rocked indoors). Then it was time for the big day.
While Michelle, who was 25 at the time, and Bernard, 30, shared seemingly very different backgrounds, they were connected by their Catholic upbringings and desire to have a big family. It was only fitting that their ceremony took place at St. Rita Catholic Church in Dallas, followed by a reception for over three hundred guests at Michelle's parents' home. While their wedding was a "clash of cultures in the best way," it was also a relaxed, family affair. "I really wanted the wedding to be about friends, family, and enjoying the night," says Michelle. This sentiment was reflected down to the dinner menu, where they served four different types of pasta.
Their approach was European, but the wedding was grand and magical in a way only a Dallas wedding could be. Michelle envisioned a "white wonderland," which hadn't yet been done at the time. "There were twinkle lights in all of the trees and thousands of orchids going down the creek bed," she remembers. The flowers and décor were arranged by Kendall Bailey with help from Michelle's friend and fellow interior designer, Stephen Sills. "My mother had planted white caladiums everywhere that year and Kendall sprinkled his fairy dust over them." All of the bridesmaids wore white, too, with customized floral headpieces to match.
For her wedding dress, Michelle went custom as well. Like most brides in 1984, Princess Diana's wedding to Prince Charles was a chief source of inspiration. After finding a local dressmaker, her mother, who is a painter, drew out the design. "I think for more than a month, little tiny seed pearls were sewn all over the bottom," Michelle recalls.
"I know they say, 'It's your wedding but your mother's party,'" says Michelle when asked for her advice to brides today. "But I think it's important to keep sight of who the couple are and their lifestyle. Brides today have so many options and should really make their wedding their very own."