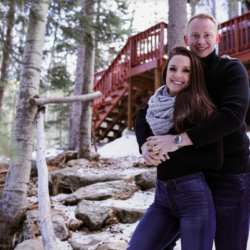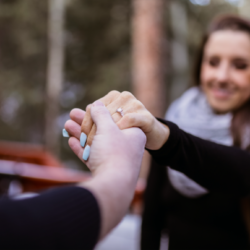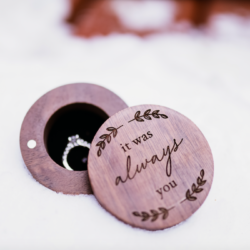 I'm at an elevation of 9,000 feet. I'm surrounded by snow-frosted pine and Aspen trees. It's 10 degrees outside and I can see my breath like a puff of cloud floating off into the endless expanse of sky. I'm a tomboy Texas girl lost in the iridescent mountain wilderness and all of a sudden… I'm a bride to be.
I met John White at Texas Tech University in the summer of 2015. It was a tumultuous time in both of our lives, each of us searching for a new beginning in Lubbock of all places. After a few months of casually dating, I got up the courage to ask him if I was his girlfriend. He said, "Well yeah, I didn't know I was supposed to ask."
And the rest is history.
In the fall of 2019, we moved back home to Dallas, where we've continued to build an incredible life together, of course with our fur baby, Diesel. After celebrating our five-year anniversary this past November, we planned a winter getaway for the two of us.
We found a cozy, rustic Airbnb in the Colorado mountains and booked a few days of snowboarding at a nearby ski resort. I was just looking forward to our first real vacation in months, but John had a lot more in mind. Our first morning in the cabin, we got all made-up and bundled to take pictures in the freshly fallen snow. But the photoshoot turned into a secret video of my Prince Charming getting down on one knee.
He pulled a box from his pocket that read, "It was always you," and revealed the most stunning diamond ring hidden inside. I of course said yes and he held me close, both of us choking back tears just imagining the love story we were about to write. It's the magical moment every girl dreams of.
Over the next few months, I'll be documenting the process of planning our wedding. I hope you'll follow along with me as I chronicle the highs, lows, joyous moments, and tough decisions on our way to "I do."