Advice & Planning
Postcard from Italy—Mackenzie Brittingham's Search for Antique Lace and Hidden Restaurants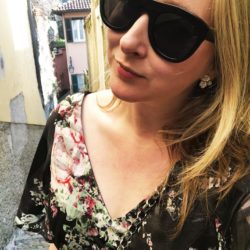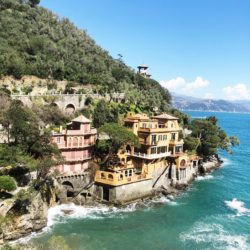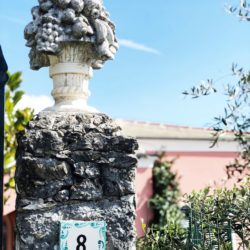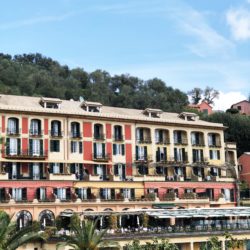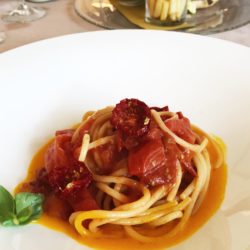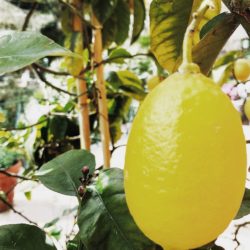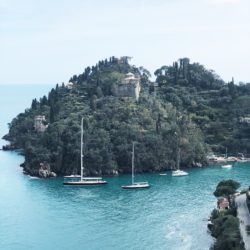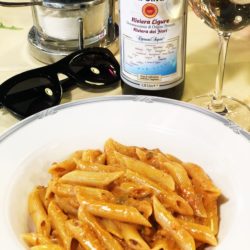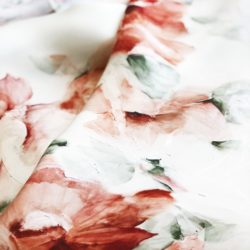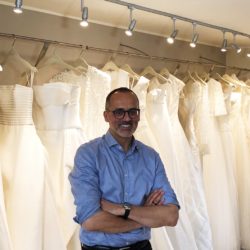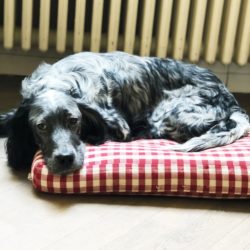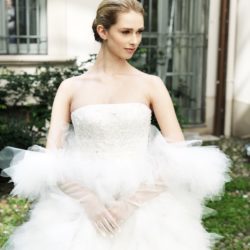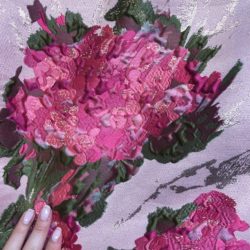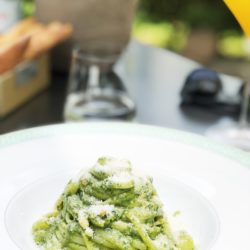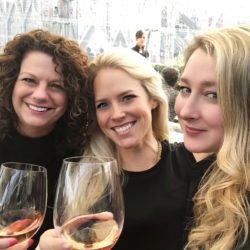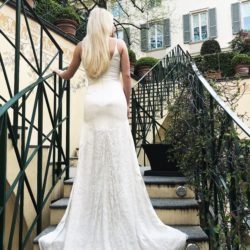 On her first trip to Italy, Mackenzie Brittingham explored the country by car. She and a friend drove from Venice to Portofino. "We wanted to get lost in the cities, and explore all the art and history they have to offer," Brittingham says. The creative director and designer bought Stanley Korshak Bridal two years ago, and Italy has become a regular destination for both work and play. We caught up with her before New York Bridal Fashion Week, so she could tell us all about her avventure italiane. (Warning: mouthwatering pasta descriptions ahead).
First, the Vision Board
I love vision boards—I have one in my bedroom, as well as my office. It's important to stay focused and set goals for yourself: as soon as I accomplish something, I'll take the board down, will keep the pieces in a box, and put up something new. The boards are constantly evolving. Before this trip, I took snapshots of different laces, jewelry, and inspirational quotes. My main goal was to find fabulous fabrics for my custom collection.
Old World Portofino with the Family
I always begin my trip in Portofino. My family will come with me for this first leg, where I like to relax and get acclimated. We will go on beautiful hikes in the towns dotting the coast of the Italian Riviera. We will rent a boat and go explore. There's a town with an antique lace shop where women spend hours weaving, using little wooden handles they intertwine. This time I bought a piece that took two years to make, and I'm having it framed.
We stay at the Belmond Hotel Splendido. I am a big fan of the famous Elizabeth Taylor pasta, a staple of the hotel. It is a pomodoro pasta with tomatoes prepared three different ways. She used to visit Portofino and would stay at this hotel. Celebrities and aristocrats been visiting Portofino for decades.
I live for long lunches and enjoying time with my family. There's a Portofino restaurant run by a local lady that you have to wear walking shoes to get to. It's a little hike from the Splendido hotel. You walk past colorfully painted family villas with small farms and gardens where they grow their own herbs. This woman has taken it a bit further and has opened it up into a restaurant. It's amazing—more of a local spot and not on the tourist's map. I met her son two years ago and he told me about it.
At night, we watch the sunset and boats roll into the harbor.
The Fashionable Milanese Market
Time for Milan, where the work begins and I do fabric scouting and attend bridal market.
The finest fabrics in the world are produced in Italy. Silk, jacquard, you name it. I meet with fabric vendors and get to see their inspiration boards. It's lovely to get to know that a lot of artists go through a similar creative process. I learned that vendors will take paintings from local artists and turn them into fabrics. I bought some fabrics which I will incorporate into my collection for my own fashion show coming up. I can't wait!
This is my second year going to bridal market. I fell in love with the designer Antonio Riva (who is carried at Stanley Korshak Bridal). The highlight of my trip is always seeing his fashion show and his wonderful creations. Such incredible attention to detail.
This year, our buyer Christina Plumlee joined me in Milan. It was exciting to go to market together. She is so well-connected and well-liked by everyone in the industry. Christina is very close with the designer Peter Langner, so we stopped by his studio. It was the last stop after a long day of shopping and shows. He is beyond charming. He gave us olives from his private orchard and described the inspiration behind his latest collection. He also introduced us to his sweet puppy, Pinocchio! He has the most relaxing Italian workspace.
I stay at the Four Seasons where I get traditional Genovese pasta, a mainstay in Milan.
A Casual Shoot at Lake Como
While I am in Italy, I like to stage mini photoshoots with my sister, who is my sweet little model. Unfortunately, she had to go home early. (Her boyfriend had an emergency appendectomy. Eek.) I had to come up with a "plan b" quickly. My friend Nimi Falb, who is also from Dallas, is a competitive equestrian rider. She's helped me out with shoots in the past and happened to be training in Ireland, so I called her up. She flew out to meet me in Milan, and we drove up to Bellagio, a city on Lake Como.
In addition to the shoot, we explored the quaint back alleys and popped into little family shops where they have antiques and jewelry. We also, of course, had to have pasta. There's Sussie, a restaurant where they prepare the pasta in a parmesan wheel with water from Lake Como. It doesn't get much better!