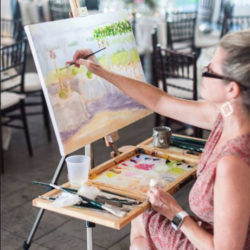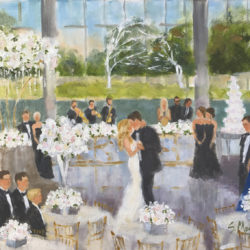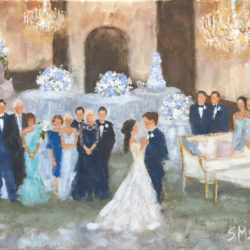 Susan Moss Cooper is the local wedding painter de rigueur. But don't expect stately bride and groom portraits: her delicate impressionistic renderings evoke the feeling of a wedding, while also capturing the subtle decorative elements that made it special—think floral arrangements, tablescapes, ceremony or reception venue details—all captured in an interpretive wedding landscape.
There's a reason for her unconventional style. As a young girl, she would paint with her grandmother, Leola Moss. Born in 1909, her grandmother had a curious mind and romantic soul. "Even though she didn't have much money, she traveled all over the world, taking her paints with her," says Cooper. Moss was a fixture in the Dallas art scene in the 1940s who instilled in her granddaughter a love for the Texas landscape and en plen air painting. Today, Cooper has pioneered the event painting movement in Dallas (and perhaps even Texas). While the practice may be of another era, it's trending. In the era of iPhones, oil on canvas paintings are a breathe of fresh air.
The idea of painting weddings came about organically. A groom approached her before his wedding at the Fort Worth Club: "He had an idea of surprising his bride with a painting. I had never heard of it before, but I was up for the challenge," says Cooper. Since the painting was meant to be done in secret, Cooper was perched from a hidden position, capturing details from afar.
The day of the wedding, she'll set up her canvas, easel, and paints a few hours before so she can get begin to capture the environment. Sometimes, during the night, she'll snap photographs with her phone of guests who the bride and groom want to include. By the end of the night, the canvases are "really loose and painterly," she says. She'll complete the painting back in her studio.
I asked Cooper what she does to stay inspired, and her answers were close to what I imagine her grandmother's would have been. "I don't travel to France and Spain as much as I used to, but I love driving through the countryside in Texas and the view from my house on White Rock Lake."
She also loves Instagram. "With the internet, you can go anywhere!" she says. She follows artists and interior designers for visual inspiration. "As for artists, I love to follow Lindsey Meyer, Taeylor Fisher, and Brenda Bogart. In terms of interior designers, Emily Summers, Jan Showers, and Amy Berry are a few."
It takes a bit of old and new to make any artist relevant. While her art may be traditional, her practice and influences are anything but.
Paintings start at $2,195.