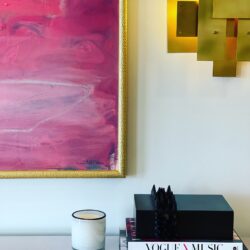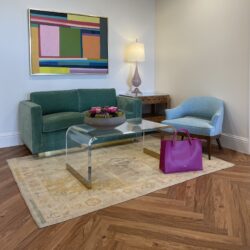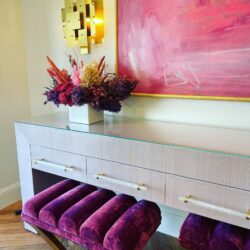 Big news, brides: Beloved bridal salon Warren Barrón Bridal recently opened their very own alterations studio!  
The perennial favorite stop for Dallas' most discerning brides is no stranger to change and reinvention, having first set up shop in 2006 in Highland Park Village. Native Dallasite Elle Warren Harman, then 30, had spent the preceding decade climbing the ladder in the New York City bridal industry and was ready to come home and start a business of her own. She decided to team up with best friend Cecilia Flores-Barrón, whom she met in New York and with whom she'd always fantasized about opening a salon. 
The store's seen a few iterations since then. In 2013, the shop relocated to Snider Plaza, where they enjoyed many successful years before an August 2019 flood wiped out all of the store's sample dresses and forced the owners to close for four months. Upon re-opening, COVID hit. Elle, however, embraces change. "It's fun to reinvent yourself," she smiles. 
Now, the shop plans to relocate this November to the Lovers/Inwood shopping center where its alterations studio currently resides, so brides will be able to shop for dresses that'll then be altered in their neighboring studio. Their alterations concept is unique in Dallas, where bridal shops typically outsource alterations or expect brides to find seamstresses of their own. By offering in-house alterations, Warren Barrón provides the convenience of a streamlined service along with an ambience that's unmatched in the market. Plus, "The parking is so much better than in Snider Plaza," Elle laughs. 
We sat down with Elle to learn more about the new concept. 
D Weddings: What inspired you to open an alterations studio?  
Elle Warren Harman: We wanted to create a space that was beautiful. There aren't many alterations studios that are pretty. We wanted a beautiful environment for people to do their alterations—not only the wedding gowns, but the mother of the bride, the bridesmaids, even the dads. When I decided to move the bridal shop to this shopping center, this space was open, so we sort of just did it.   
What makes the alterations process so important?  
Alterations are how brides make a gown their gown. Everything's made to order at our store—you take measurements and order a size based on that—but, when the dress comes in, it has to be fitted to each person's body, because nobody's body is exactly the size of the fit model that the designer uses. Everybody needs alterations. It's the most important part of the process, and it could kill the dress if it's not done well.  
How do you hire seamstresses? 
I only hire the people I've worked with the longest who know everything about everything, so you're in the best of hands. It's hard to alter a wedding gown—it's a dying art. It's hard to find people that have this high level of skill in alterations because it's really labor intensive.  
Luckily, we have Benita Rimi, who's been doing alterations forever and has worked with Chanel and Ralph Lauren and had her own business as well. She's been working with us, but she had to take the dresses to her home to alter and bring them back to the store for fittings. Now, we're doing all of our fittings here.  
Do you have any specialties in terms of alterations—bridal or otherwise? 
We have extraordinary veils, with offerings like hand-painted veils and antique laces. Benita can do anything—she can make jackets, she can make sleeves, she can take lace from your grandma's dress and make a veil out of it. It doesn't have to be something fancy—we even do jeans. 
The only thing we won't do is change the design from the designer's—like changing a straight-across neckline to a sweetheart—unless the designer already offers that alteration. If the designer doesn't want to do it, then we just don't offer it. 
What makes WB Alterations unique?  
I thought everything out, focusing on how I'd want to feel if I was doing my alterations. It's so peaceful up here—it's like a treehouse! Really, there's nowhere else like this. 
WB Alterations is now open at 5600 West Lovers Lane Suite 211 Dallas, Texas 75209. Services are available by appointment only. Find more info at wbalterations.com.