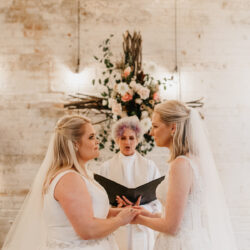 Uncertainty and upheaval can test even the most faithful hearts, but it's love that sees us through. Real brides share the lessons that life's unexpected twists and turns have taught them—and offer encouragement if you're traversing your own altered path.
Mary Grace Metheny and

José Granados
May 30, 2020
Their wedding waylaid, one couple chooses to see the positives in their canceled plans—and that sometimes, the best things come in small ceremonies.
My husband, José, and I planned a big, beautiful Dallas wedding that was set to take place in June 2020. But with just shy of two months left until our big day, we had to cancel our plans because of COVID-19.
The decision was difficult, but we opted to get married with a small ceremony in my parents' backyard instead. By that point, we had been together for more than two years and we had known, truly since our first month of dating, that we wanted to get married. We didn't want to wait any longer.
Though we were certain it was the right decision for us, we were worried about missing out on one thing: celebrating with the great number of people important to us. When we were initially planning our wedding, the thing we most looked forward to was spending one spectacular night with everyone we loved in the same place.
As people learned of our canceled plans, many reached out. We were overwhelmed by the support we received, from those who lent their time and effort to make the celebration beautiful, to the ones who sent us well wishes and encouragement in a time that could've felt like our dreams had fallen through.
Re-planning a wedding in a pandemic was the challenge we anticipated. We contacted vendors about our cancelation and had both positive and negative experiences. We weren't certain if my dress would arrive in time, but it showed up 10 days before the wedding. We wanted to be safe and responsible in planning, and because most businesses were closed, the entire wedding was the work of our families. My parents and sisters spent weeks adding flowers to the yard, my grandmother pulled family heirlooms from storage to use as decor, and my mother made flower arches for our ceremony backdrop. Family friends offered to take photos; another was our officiant.
At the last minute, we invited a few friends to park their cars on the sides of our street and see us off afterward while maintaining a safe social distance.  From their cars, they showered us with birdseed and congratulations. José and I both say it was one of the most joyful moments of the day because we felt so supported.
You can get married without having a big wedding and it will still be the best day of your life. But there's something really beautiful about a wedding—traditional or not—because of the outpouring of love from people who are there to celebrate the beginning of the rest of your life. It's one of the rare times when such a wide range of people, from your childhood friends to your current employer, come together to celebrate your happiness. Our wedding wasn't what we expected when we first started planning, but it was so much better than our dreams because we were able to set aside the traditional expectations and focus on the thing that mattered most: celebrating with the ones we love. It was an incredible gift. —Mary Grace Granados
Annie Bures and Merrit Cowden
October 6, 2019
After a year of unpleasant surprises,
 

two newlyweds find comfort in the one

 

thing that's certain: each other.

Like so many other newlyweds, Merrit and Annie Cowden are traversing the uncharted territory of 2020 together. The couple met on the dating app Bumble in February 2018. Both women knew early on that their relationship was something special; Annie says she was "pretty sold" after just a month and a half based on Merrit's "adult-beverage-infused dance skills" alone. Nine months after they met, the couple got engaged and celebrated with a beautiful wedding at Brake and Clutch Warehouse last October. 

With the stress of wedding planning behind them, the pair was ready to relax and enjoy a blissful first year of marriage. Instead, their life got thrown into a whirlwind—literally. 

"We moved into our house together in August," Annie explains, "were married in October, and then…" 

"The tornado," Annie and Merrit say in unison. 

"Like three days after we got back from our honeymoon," says Merrit. "We took a direct hit from it." 

Two trees fell on their house during the storm—one inches from the window in the room where the couple's wedding dresses were still lying on the bed. Annie and Merrit lived with boarded up windows and no power or internet for weeks as they waited for the home to be repaired. As time went on, the couple experienced even more turbulence. Having both changed jobs prior to their wedding, Merrit and Annie were working for American Airlines when COVID-19 disrupted the travel industry. Merrit, who was training to be a flight attendant, was sent home a week before the end of the course, and Annie soon changed jobs as well. "Money is a stress, and jobs are a stress," says Merrit. "That's been hard."

Despite the challenges they've endured, the Cowdens count themselves lucky to have their health—and one another. "We care about the same things, care about each other, and care about each other's families and friends," Merrit says. "We're each other's biggest fans." 

And though their first year as a married couple wasn't the honeymoon period they expected, the highs and—especially—the lows have taught them a lot about what marriage is truly about. Whether you have the wedding of your dreams, like they did, or your plans were upended by a pandemic, an easy road is never guaranteed. For that reason, they encourage couples to mark every tiny milestone, cheer for every hurdle cleared, and find other excuses to celebrate beyond just the day you say, "I do." 

"If you get through your first year of marriage successfully, celebrate that!" Annie suggests. 

Everyday sacrifices can even be a way to honor each other, like Annie letting Merrit have two TVs for football season, and Merrit watering Annie's garden every morning since Annie started a new job in May. It's those small moments, they now know, that make a life together. 

And if you find yourself in a period with decidedly less cause for celebration? Merrit and Annie say the two things that made their tough times easier to endure were "being good at apologizing" and "being each other's best friend." In a whirlwind year of marriage that began with a natural disaster and ended with a global pandemic, it's the lessons this couple learned in between that matter most. —Rachel Behrndt
Change of Plans?
If, due to COVID-19 restrictions or for any other reason, you aren't able to have the wedding you imagined, when you imagined it, or with everyone you imagined sharing it with, it's easy to focus on the can'ts. But despite the understandable disappointment and frustration, there are so many things you can still do to celebrate your love. Let these reflections from real brides (some of whom eloped during the current pandemic) inspire ideas for what you can do to make the most of your wedding day—even if it looks a little different than you imagined. You can…
Feel beautiful in the dress of your dreams: "I was so excited to see my husband for the first time in my wedding dress! I couldn't wait to see his reaction." – Amanda Aaron
Focus on what really matters: "We had the sweetest ceremony. My father was able to walk me down the aisle, and some of our friends and family joined via a video conference call. It was such a special time and made us focus on what was important—the love we had built and the love we will continue to build." – Kara Elswick
Head for the great outdoors: "Our dream environment was outdoors, surrounded by trees and lights. That is all we could picture when we dreamt up our big day, and that really made the whole night what it was." – Anastasia Byrd
Have the best of both worlds: "Get married in a place you love that you will want to remember forever. Invite who you can but keep it intimate so you have as many of those special moments with family and friends and not feel the need to spend a lot. Then, when the time comes, throw the party of your dreams with everyone and everything you had originally planned." – Anastasia Byrd
Incorporate friends and family who can't be there: "My uncle married us and used my grandfather's bible (who has passed away). His bible is worn and filled with so many handwritten notes. Also, my mom's parents were not able to make it to the wedding because of health issues, and I walked down the aisle with my grandmother's handkerchief and earring on my bouquet." – Cassie Burch
Find other excuses to celebrate: "Think of how much fun a first anniversary party would be with all of your loved ones!" – Karli Spangler
Take a walk down memory lane: "Our theme was 'Memory,' based on a song that my now-husband wrote years ago. It served as our first-dance song. We also had all of our favorite travel memories piped onto our cake in white-on-white icing. My favorite detail was a custom bowling lane I had made for our afterparty—my family grew up in the bowling business and being there was one of my favorite childhood memories. It also served as a tribute to my late father." – Molly Rasmussen
Embrace change: "We knew we wanted to be married, and a wedding wasn't the reason, so there was nothing really stopping us. This wasn't our original plan, but life never goes to plan, and this is all part of our story." — Kelsey Houser
Relish the opportunity to let go of what's expected: "Looking back, I would have nixed a few of the 'normal' wedding things I felt like I had to do and done what I felt like fit us best." – Anastasia Byrd
Celebrate with a special meal: "We pulled inspiration from our travels together for the food and drink that was served at the reception. The menu was modeled after one of the best meals we've eaten in Florence, Italy." – Karli Spangler